Aims and scope
Aims and scope
The International Journal of Food Contamination publishes baseline, monitoring data, indicating the qualitative and quantitative presence of microbiological and chemical contaminants in foods, animal feed, and their raw materials. For primary production, only data related to agricultural commodities used for food or feed production are eligible for publication.
There are no restrictions on classes of contaminants, and the scope includes both established and emerging hazards, e.g. bacterial pathogens and bacterial toxins, products of microbial activity (such as biogenic amines), viruses, fungi and mycotoxins, marine biotoxins, plant toxins, process and environmental contaminants, migration contaminants from food contact materials, and residues of pesticides and veterinary drugs found in raw materials, food and feed. Direct food additives are not part of the scope, unless added as part of the preservation strategy, but the products of their transformation that present established or potential risk for public health (e.g. nitrosamines) are part of the scope. Additives which are part of the food contact materials, e.g. plasticisers such as phthalates, are part of the scope.
The work described does not need to be innovative either in the approach or in the methods used, but the sampling, analytical methods, and data analysis and interpretation must be valid and sound. The significance of the results either for the science community, food industry or competent authorities must be shown.
The data and its unified format will allow scientists worldwide to refer to it for different purposes, including:
To review the sampling schemes used by food authorities and food producers
To assess the relevance and suitable limit values of POs and FSOs for biological and chemical risks
To evaluate the need for new or adapted methods for sampling and testing
To develop predictive mathematical models for identified hazards
To perform risk analysis
To follow and model global food contamination patterns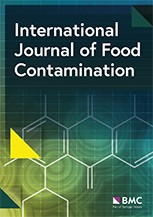 ISSN: 2196-2804 (electronic)
Annual Journal Metrics
Speed
78 days to first decision for reviewed manuscripts only
65 days to first decision for all manuscripts
108 days from submission to acceptance
13 days from acceptance to publication


Usage
104,714 downloads
4 Altmetric mentions